Let's learn about POMOLY HEX Hot Tent in this article. The design of each tent is different. If we want to choose a tent. Its quality is what we attach the most importance to. The fabric determines the quality of the tent. In general, Oxford fabric is sturdy. POMOLY Hex Hot Tent adopts 300D oxford fabric. Maybe many people don't know what 300D means. The higher the value, the more durable the tent is. The fabric of the tent is Pomoly's core advantage. It is more waterproof, wear-resistant, tear-resistant, more durable, easy to clean and store, and has a longer service life. More warmth and safety in a camping adventure. POMOLY Hex Hot Tent has many advantages. Let's sum up.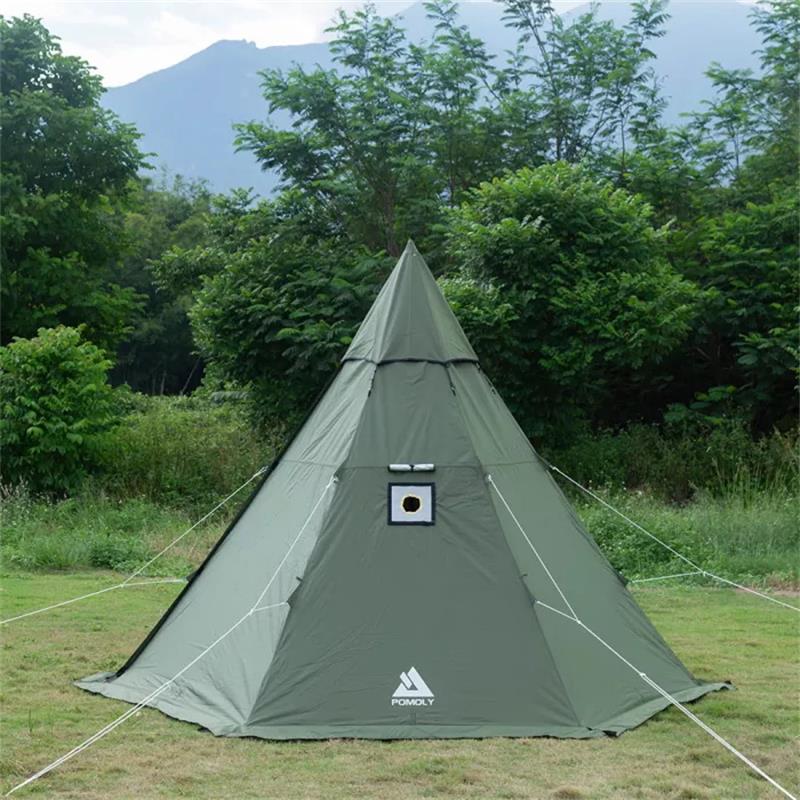 300d Oxford Fabric – durability.
Movable Top Cop
Fireproof Stove Jack
Practical Tent Skirt
Shop Now:https://www.pomoly.com/POMOLY-HEX-Hot-Tent
POMOLY HEX Hot Tent's Hot tent Reviews
1. I brought the Pomoly Hex 2 person tent for me and my Dog so we can camp all year. I just need a collapsible Titanium Stove that'll go in my backpack now so for the colder months of the year we will both be warm and dry plus I'll be able to cook in my Fabulous shelter.
2. Bought the 4m. very good in winter, especially with the pod .. we took it early spring with the stove must say it puts a new meaning hot tenting with the reflective sliver inside it keeps them warm in ..great purchase I got this in brown.
3. The Tent is awesome! It's great value for the money as well. I find it very comfortable to fit 2 people with a wood stove in. Also, Pomoly staff and the managers are super friendly and really help out when there's a problem. The only thing i would fix is maybe making the tent itself a bit more portable and lighter other than that its great so far! 🙂
Specifications
Specification
Capacity
1P with

tent wood burning stove

or 2P
Stove Jack
Heat resisting fabric (upgrade 2021)
Snow Skirt
6 sides snow skirts
Doors
Two doors
Tent Fabric
300D Oxford with silver coating layer
Waterproof

3000MM+ 

Seami

ng and Gluing

Floor Shape

Regular Hexagon (Si

de length: 63

 in / 160 cm)

Floor Dimension
71.6 sq ft / 6.65 sq m
Peak Height
94.49 inch / 7.87 feet / 240 cm
Weight
13.7 lb / 6.2 kg
Half inner or Mesh inner
5.5lb / 2.5kg or 5.8lb / 2.6kg
Joint Treatment
Seaming and Gluing
Ventilation
Top Vent and Bottom Vent
Packed Size
24.8 x

5.9

x 5.9 in
Color
Brown, Green, White
Season
4 Season (Especially in winter)
Conclusion:
POMOLY HEX Hot Tent's design has many details. Both fabric and design can satisfy people. When you move the top cop, more fresh air can improve your circulating pressure and pulse. Most importantly, it can reduce the burning smoke left in the tent. The stove pipe socket allows you to use the stove in the tent. The snow skirt of the tent is also very important. In the cold winter. You can move stones and press them on the snow skirt of the tent. In hot summer, you can roll up your snow skirt. Tents can get better ventilation.
Recommended Reading…
How Do I Choose Pomoly's Oxford Tent, Cotton Tent, and Nylon Tent?
Why Choose Pomoly Chalet Tent for Hot Tent Camping?