As a camping enthusiast, I have been to many places. These places include forests with many wild animals, and dangerous canyons. But when I buy a tent, it's hard for me to choose what kind of tent to buy. I have bought many styles of tents. However, among many styles of tents, I think the best one is Stovehut hot tent.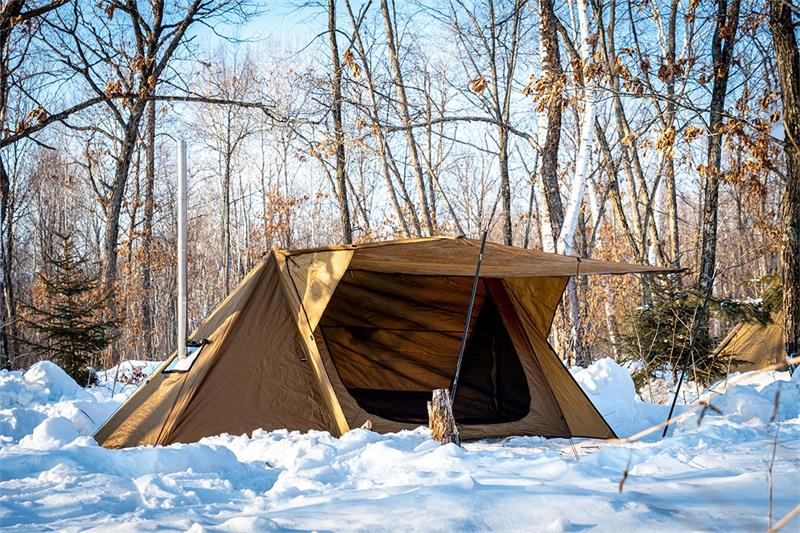 Quick view:
70D Tear Resistant Fabric
With Stove Space Design
With Fireproof Stove Jack
Three Doors Design
Affordable Price
Waterproof Camping Mat
With Mesh Door Design
Light Weight And Portable
First of all, thank you for allowing me to define Stovehut70 hot tent. Stovehut hot tent is one of the best products sold by Pomoly. I have bought the products of this company several times, and the quality of these products is very good. Stovehut70 hot tent is suitable for four seasons. This hot tent is the latest product launched by Pomoly in 2021.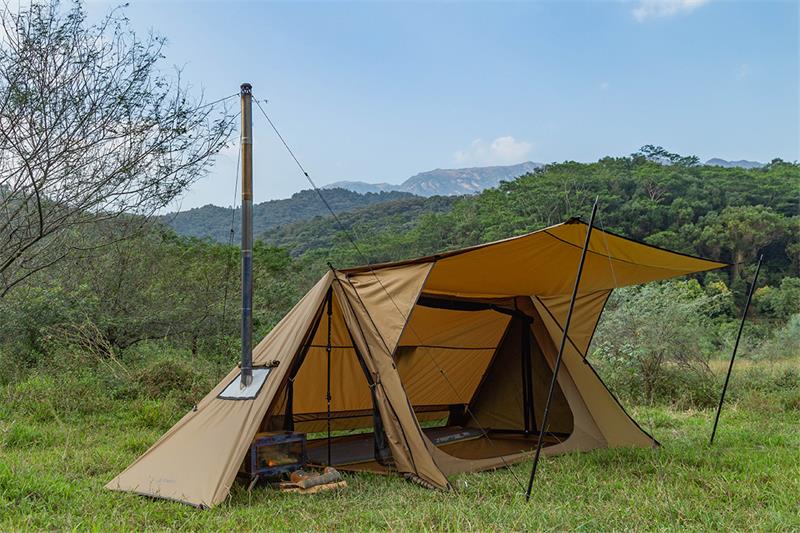 Shop Now: https://www.pomoly.com/STOVEHUT-70-Camping-Hot-Tent-
In this article, I will introduce this tent to you from 3 aspects. These aspects include tent materials, characteristics, and parameters.
1. 70D Tear Resistant Fabric.
First of all, you should know that the larger the number in front of D, the stronger the fabric of the tent. The fabric of this tent is made of tear-resistant polyester fabric. The fabric is better than that of ordinary nylon or polyester fabric. The wear resistance of 70D fabric is better than that of ordinary nylon or polyester fabric. Most of the high-quality tents on the market use this tear-resistant material. 70D material==, finding a balance between durability and lightness.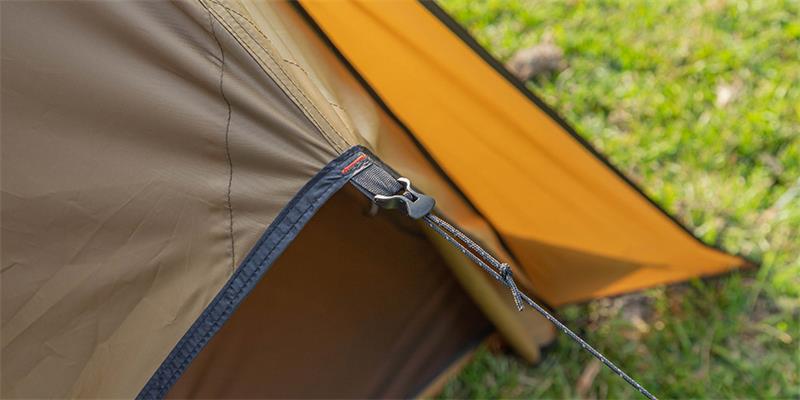 Review:
great tent. took it out on a 2 day hot tent trip and did a video for the channel. Definitely loved it.
https://youtu.be/7PcAn_RHd4Y
Short Summary:
The tear-resistant directly affects the durability of the tent. In case of bad weather, the fabric with poor tear resistance will damage the position where the wind rope and the tent pegs connect the fabric because of insufficient strength. This bad experience will make your journey unpleasant.
2. With Stove Space Design.
Pomoly's Stovehut hot tent comes with a separate stove space. You can use the stove in the tent. In cold weather, users can use the stove to raise the temperature in the tent.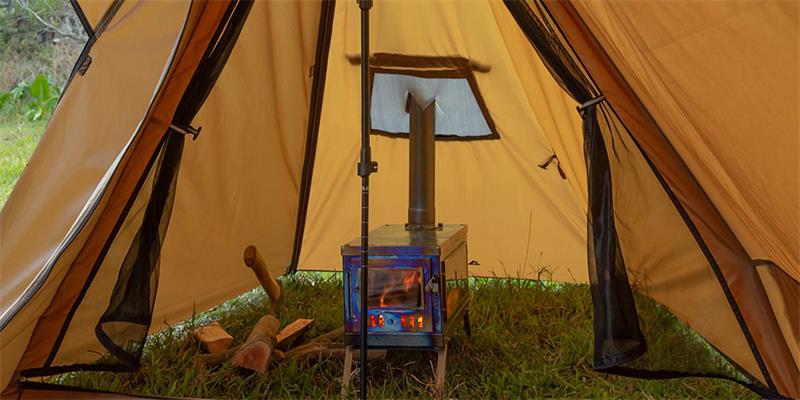 Review:
I wanted to test at least 3 things (not necessarily in this order):
Hot Tent aspect with a Pomoly wood stove
Load underweight from the snow and freezing rain, and
waterproof from the rain.
First: No leaking – no water got into the tent; dry as a bone inside.
Second: Hot Tent aspect… wonderful. Really needed to watch the stove because I was getting super hot inside the tent and had to open the rear doors to cool down!
Third: Tent under load… it was here that I noticed that the side having the awning – really needs to have a tie-out like the back of the tent. (m*******)
Short Summary:
Tents are necessary equipment for outdoor camping. People also have high requirements for tent materials. The advantages of the Stovehut70D hot tent are light, tear-proof, waterproof, and even sunscreen.
3. With Fireproof Stove Jack.
According to the picture, we can see a stove jack on the tent. This design allows users to use the stove in the tent. The stovepipe can be inserted into a fireproof stove jack. A fireproof stove jack is made of glass fiber material. This stove jack can reduce the risk that the tent will be burned by the high-temperature stovepipe.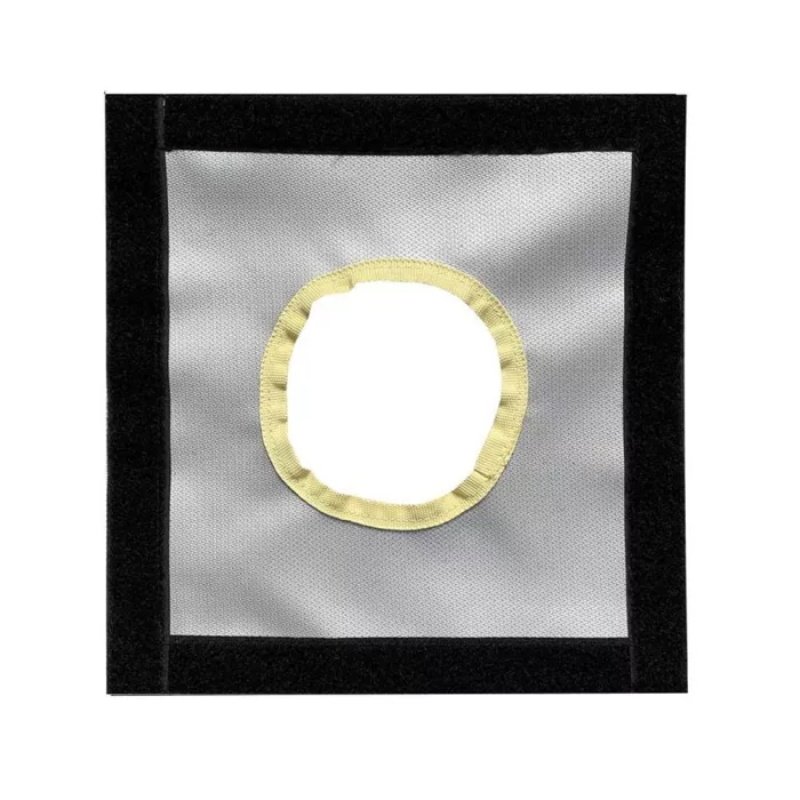 Review:
This tent is great. Last week I went camping with my family. We used a stove in the tent. There was no risk of the tent being lit.
Short Summary:
As far as I know, not all tents have fireproof stove jacks. The stove of this tent not only has independent space but also has smoke exhaust vents.
4. Three Doors Design.
This tent has three doors. There is a door that allows you to enter the room where the stove is placed. There are two doors in the rest area. This design allows people to enter the tent freely. In addition, due to this design, users can use the tent in four seasons.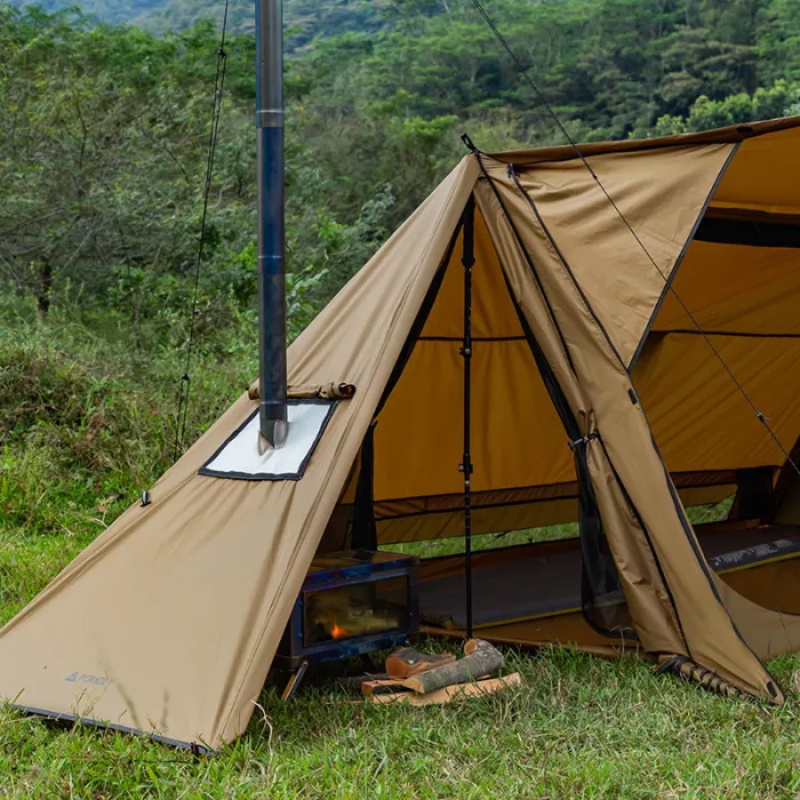 Review:
This tent is one I have used. I went hiking with my sister three months ago. We use this tent as our resting place in the evening. This tent has three doors. I like it very much.
Short Summary:
Many tents in the market have only one door. The door of a tent is also important. Three doors allow you to get in and out of the tent more freely.
5. Affordable Price.
Should we choose cheap tents or expensive tents when buying tents? The quality of the tent is related to the price. This tent only costs US $140.00-$160.00. on Pomoly's official website. It's worth it that people can get the tent at this price.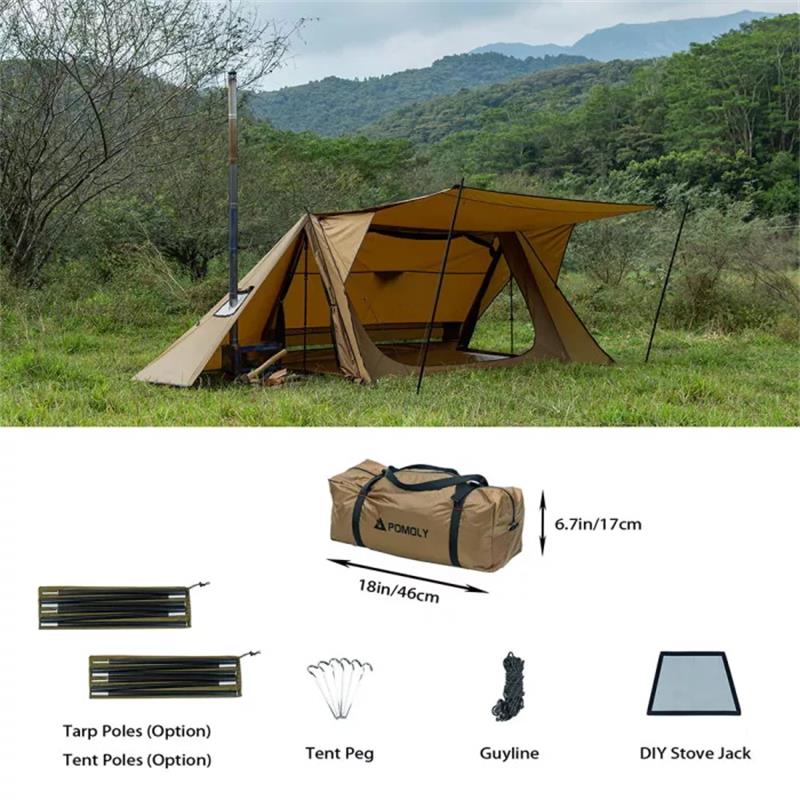 Review:
I chose a lot of tents on the Internet. I bought this tent. Its quality is excellent. It surprised me.
Short Summary:
In my opinion, when we choose tents, we should not only focus on the price but ignore the quality of tents. Anyway, we should choose tents according to our own requirements.
6. Waterproof Tent Mat.
Generally, the ground of the tent is wet. When we camp in the wild, the ground is usually wet at night. Because the mat is waterproof, this mat can reduce the risk of ponding entering the tent.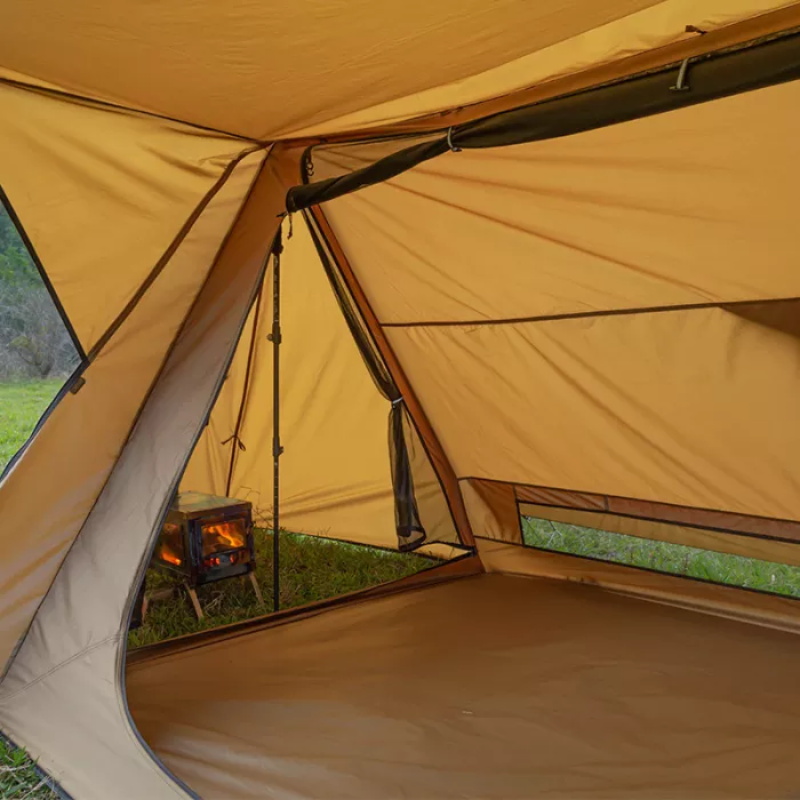 Review:
The floor mat that comes with this tent is really good. This mat is very thick. It's comfortable to sit on this ground mat. This is a great shopping experience. (-Amazon)
Summary:
It is best to use a floor mat when camping in the wild. This mat can not only reduce the risk of water entering the tent, but also reduce the entry of ash and stones into the tent.
7. Design of Tent With Mesh Door.
This tent is different from other tents. Its door is also added with a layer of mesh. When we camp outdoors, mosquito bites will prevent us from getting enough sleep. The design of the mesh can reduce the chance of preventing mosquitoes and insects from entering the tent.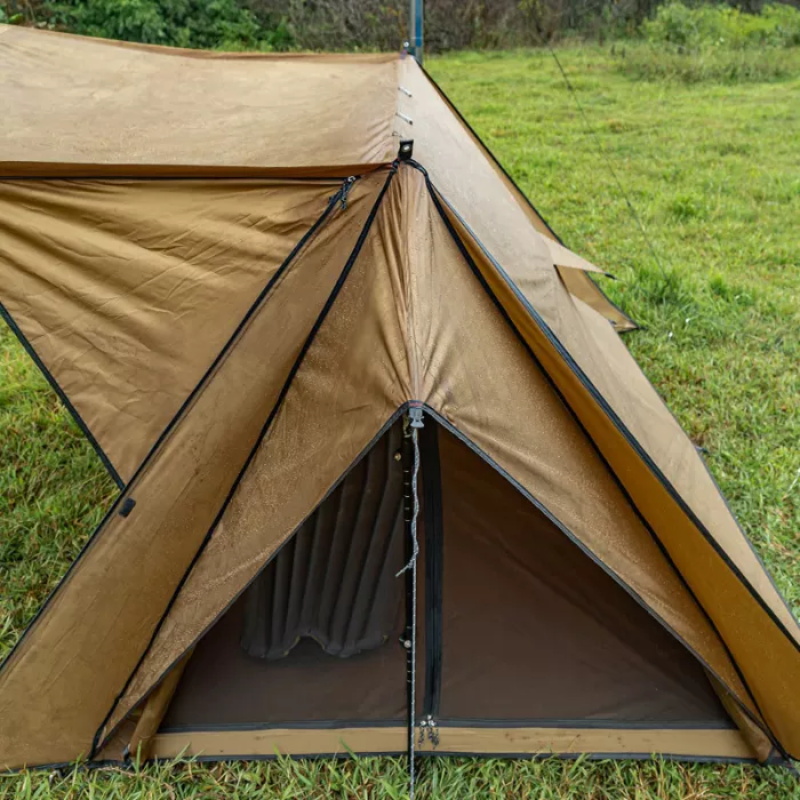 Review:
The mesh of this tent has very small holes. During my use of this tent, I didn't worry about being bitten by mosquitoes. The tent is well worth buying.
Short Summary:
Most people like this kind of tent with a mesh design. Mosquitoes not only make us feel pain but also bring us diseases. When we go camping, we should also buy some essential drugs. This is a matter worthy of our attention.
8. Light Weight And Portable.
This tent is light and suitable for hiking campers. His size is small and it is easy to carry.
Review:
The quality of this tent is very good. The material of this tent is also very strong. It's also light. I think people who like hiking and camping can buy this tent.
Conclusion:
When we buy Tents, we should choose tents of good quality and lightweight. We need to bring a lot of things. Too heavy a tent will add to our burden.
According to this tent, I summarized a table. You can refer to the information in this table. This watch can make you understand this tent more clearly.
Specification
Capacity
1-2P with wood stove
Stove Jack
DIY heat-resisting
Snow Skirt
No snow skirts
Doors
3 Doors
Tent Fabric
PU 70D Ripstop Polyester
Waterproof Rating
2500mm, Heat Taped Waterproof Seaming
Floor Shape
Irregular
Sleeping Area

35.5 

sq ft / 3.3 sq m
Peak Height
4.3 feet / 130 cm
Total Weight
5.7 lb /2.6 kg
Ventilation
Bottom Vent
Packed Size (L*W*D)
50x16x16 cm / 19.7×6.3×6.3 in
Color
Sunset Yellow
Season
4 Season (Especially in winter)
Read More
Best 12 Tent Stove Brand For Hot Tent Camping Cooking Heating
Is Pomoly Traveller Mini Stove Worth Buying?
How Do I Choose Pomoly's Oxford Tent, Cotton Tent, and Nylon Tent?